The Left Hand of Darkness
(Hainish Cycle)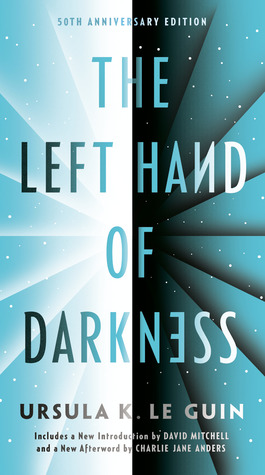 Paperback, 366 pages
English language
Published Sept. 16, 2010 by Ace Books.
ISBN:

9780441478125

OCLC Number:

53345521

Goodreads:

118028
On the planet Winter, there is no gender. The Gethenians can become male or female during each mating cycle, and this is something that humans find incomprehensible.
The Ekumen of Known Worlds has sent an ethnologist to study the Gethenians on their forbidding, ice-bound world. At first he finds his subjects difficult and off-putting, with their elaborate social systems and alien minds. But in the course of a long journey across the ice, he reaches an understanding with one of the Gethenians — it might even be a kind of love
It didn't click with me.
3 stars
Review of 'The Left Hand of Darkness' on 'Goodreads'
5 stars
Beautiful beautiful work and I'm happy to have discovered le Guin. The work squeezed my heart, made me read deep into the night.
A dense story that explores a relationship between an androgynous species and a man sent to make them join a larger confederation of planets. The book is special in that it reads as though it was real, as though the author lived with them. Deep account of nuances of humankind iced with the history and culture of a species that can change sex every 23 days.
This isn't expanse or Rama books., It is slow, dense, deep, dark, philosophical and ultimately rewarding and I feel better off reading it.