A Wizard of Earthsea
(Earthsea Cycle #1)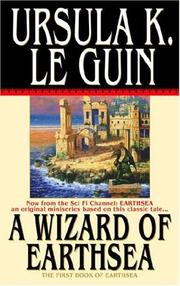 Paperback, 183 pages
English language
Published Sept. 28, 2004 by Spectra.
Ged, the greatest sorcerer in all Earthsea, was called Sparrowhawk in his reckless youth.
Hungry for power and knowledge, Sparrowhawk tampered with long-held secrets and loosed a terrible shadow upon the world. This is the tale of his testing, how he mastered the mighty words of power, tamed an ancient dragon, and crossed death's threshold to restore the balance.
Fun and short. I could see quite enjoying this when I was younger as well.
Review of 'A Wizard of Earthsea' on 'Goodreads'
5 stars
Early Ged, before he became the highest Wizard of the Earthsea, about who sculpted his young mind and what came about before. Lovely writing.
Subjects
Wizards
Fiction
Children's 9-12 - Fiction - Fantasy
Fantasy
Fantasy - General
Fiction / Fantasy / General
Magic